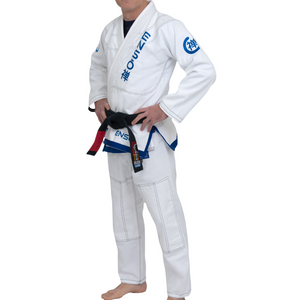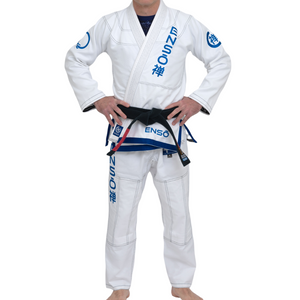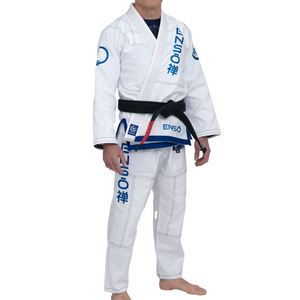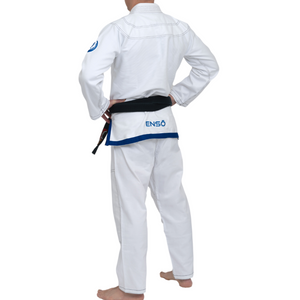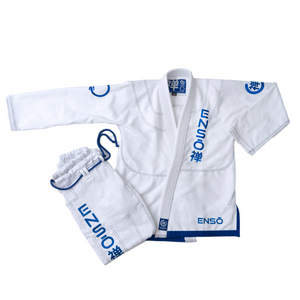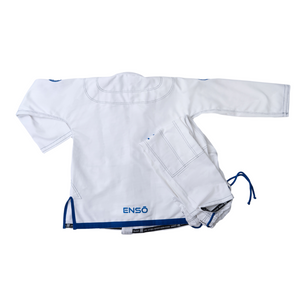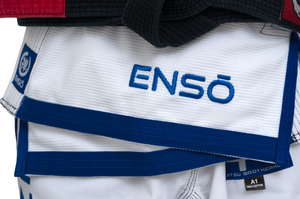 Regular price
Ensō 4.0 Gi (White)
---
Introducing the Enso Gi 4.0: Embrace the Artistry of Jiu Jitsu 
Embark on a journey that transcends the boundaries of conventional martial arts attire with the 4th iteration of our Enso Gi – a masterpiece that encapsulates the essence of the Enso symbol. Derived from the profound roots of Zen philosophy, the Enso symbol is more than just a circle; it embodies the beauty in imperfection, the wisdom of letting go, the eternal circle of life, and the profound connection between the artist and creation.
The Enso Gi Experience: Where Imperfection Meets Mastery
At first glance, the Enso Gi may seem like a mere uniform, but delve deeper, and you'll discover a profound connection to the martial arts spirit. Crafted with precision and care, our gi represents the artist's moment of creation, mirroring the unique journey of every jiu jitsu practitioner. Just as the Enso symbol signifies the acceptance of our innermost selves, the Enso Gi invites you to embrace the journey of self-discovery on the mats.
Connection Beyond Technique
Much like the martial artist's connection to the Enso symbol, your connection to your art is paramount. The Enso Gi is not just a garment; it's a medium that fosters a deep relationship between you, your opponents, and the essence of jiu jitsu. Feel the energy flow through every stitch, embody the philosophy of the Enso, and let it guide you through the fluid movements of jiu jitsu.
The Evolution of a Jiu Jitsu Practitioner
Just as the Enso symbol signifies the circle of life, the Enso Gi represents the evolution of a jiu jitsu practitioner- from the first step onto the mat to the mastery achieved through dedicated practice. With a design that echoes the continuous cycle of growth and learning, this Gi becomes an extension of your martial arts journey.
Letting Go of Expectations: Find Freedom in Movement
In the world of jiu jitsu, success often comes when we release our expectations and surrender to the flow. The Enso Gi, with its lightweight yet durable fabric, allows for unrestricted movement, letting you focus on the artistry of your technique rather than the constraints of your attire. Embrace the freedom to express yourself fully on the mat.
Key Features of the Enso 4.0 Gi:

- 450 GSM pearl weave
- High-definition embroidery
- Knee reinforced cotton drill pants
- Pre-shrunk, 100% cotton
- EVA foam-padded collar
- Scratch free, double-woven trim tape
- Refreshed Design by Gartista™
Size Guide: 

Size
Height 
Weight
A0
Approx. 4'8" to 5'2"

Up to 55 kg

A1
Approx. 5'2" to 

5'6"

Up to 65 kg

A2

Approx. 5'6" to 

5'10"

Up to 80 kg

A3

Approx. 5'10" to 

6'

Up to 95 kg

A4
Approx. 6

' to 

6'2"

Up to 105 kg

A5

Approx. 6

'2" to 

6'5"

Up to 120 kg