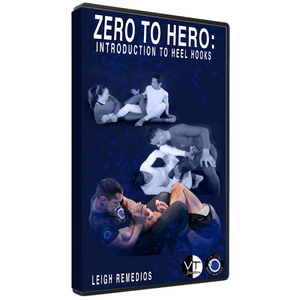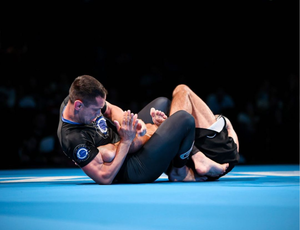 Regular price
Zero to Hero: Introduction to Heel Hooks - Digital Download
---
🔥 Introducing "Zero to Hero: Introduction to Heel Hooks" 🔥
Unlock the Power of Heel Hooks with MMA and Jiu Jitsu Legend Leigh Remedios!
Are you a grappling enthusiast with zero experience in heel hooks? Do you want to elevate your Jiu Jitsu game and master this powerful technique safely and effectively? Look no further – we've got the ultimate instructional that will take you from zero to hero in no time!
🥋 Who Is This For? 🥋
If you've been hesitant to explore heel hooks due to safety concerns or lack of guidance, this instructional is tailor-made for you. "Zero to Hero" is designed for grapplers of all levels who are new to heel hooks. Whether you're an MMA fighter, a Jiu Jitsu aficionado, or an aspiring submission grappler, this instructional is your gateway to mastering this dynamic technique.
💪 What You'll Learn 💪
🔹 Fundamentals First: Leigh Remedios, a true legend in the world of MMA and Jiu Jitsu, will guide you through the basics of heel hooks. No prior experience required – you'll start from scratch and build a solid foundation.
🔹 Safety Above All: Worried about injuries? We've got you covered. Leigh demonstrates how to apply and train heel hooks safely, ensuring that you and your training partners can practice without unnecessary risks.
🔹 Step-by-Step Instruction: From entry setups to proper mechanics, you'll follow Leigh and his wife Samantha's journey as he teaches her, a complete beginner, the ins and outs of heel hooks. You'll witness real progress as she goes from "zero" to "hero" right before your eyes.
🔹 Progression in Real Time: Unlike other instructional videos, you'll see the learning curve as it happens. Leigh and Samantha provide a dynamic learning experience that makes it easy to grasp the concepts and apply them on the mat.
🔹 Bonus Advanced Entries Section: Once you've mastered the basics, elevate your skills further with Leigh's favorite advanced heel hook entries. Learn to surprise your opponents with unique setups that will give you the edge in any grappling match.
Don't miss out on this unique opportunity to learn heel hooks from a true master. Leigh Remedios' "Zero to Hero: Introduction to Heel Hooks" will empower you with the knowledge, skills, and confidence to incorporate this game-changing technique into your arsenal.
Whether you're a practitioner of Jiu Jitsu, MMA, or any grappling art, this instructional is your golden ticket to becoming a heel hook hero. Step onto the mat with confidence, knowing you have the tools to dominate your opponents.
Free sample: What Is a Heel Hook?
About Leigh Remedios:
Leigh Remedios is a black belt in Brazilian Jiu Jitsu, Judo, Traditional Ju Jitsu and Tae Kwon Do. Leigh is a prolific competitor who has competed internationally in martial arts, including the UFC and Polaris. He has won several prestigious competitions, including the NAGA United Kingdom Grappling Championship belt and European IBJJF no-gi gold medals and has also won British, International and World titles in MMA. Leigh runs a Jiu Jitsu and MMA academy in Wiltshire, UK.
Just a few of the reviews:
"A very clear systematic approach to teaching heel hooks."

- Jack Magee, Black Belt since 2013, Head Coach Madhatters Gym, Shock n Awe lightweight champion, English open gold medalist
"This is the most pedagogic instruction video that I ever seen. Really good upbuilding so you can get to understand the mechanics. This will sure help our academy to be better at heel hooks!"
- Christopher Lee-Klockare, Black Belt at Spårvägens BJJ, Sweden/ Team Gordo Europe
"This is a must watch for any no-gi enthusiast and heel-hook fan. Easy and approachable material that will take you through heel hook mechanics."
- P Martin Gorzala, BJJ black belt and coach at Senshi Jiujitsu Academy
"I wish I had this when I started training. It would have saved me years of trying to systematize what Leigh has done in under an hour. In the time it would take to watch two shows on Netflix, you can get an in depth understanding of the mechanics of heel hooks and the ways to improve their efficacy."
- Brent Littell, one of a handful of people in the world who can claim the honor of receiving both gi and no gi black belts in Brazilian Jiu jitsu. He was one of the first instructors at 10th Planet Headquarters and currently teaches out of a Cobrinha affiliate in California.
"Lots of great detail, from fundamentals to advanced technique. Gonna go heelhook some white belts on Monday!"
- Crystina Zastro, 1st degree BJJ Black Belt 
'Leigh Remedios brings a long history of knowledge and experience to the modern leg lock game in this valuable, easy to follow instructional. Not just an introduction, but an informative, detailed, and layered resource to suit any level of grappler. A wealth of expertise forged in the combat arenas, shows why Leigh is not only valued as a combatant, but as a master teacher. I highly recommend it.'
- Simon McGovern, 3rd degree BJJ Black Belt and Head Coach at McGovern Academy