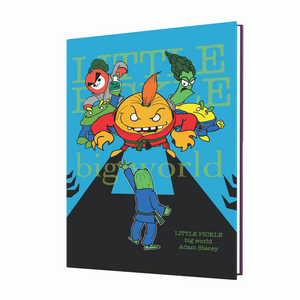 Regular price
Little Pickle Big World - Digital Download
---
Little Pickle Big World was written to inspire and empower kids everywhere to stand up for what they value. Courage can be down-right scary sometimes and this book is intended to help kids feel better about standing up to challenges. Especially when the challenge seems to be staring you in the face like a 500 lb gorilla – or a stinky onion.
This warm-hearted story centers around a Jiu Jitsu-training Little Pickle. He travels the world to protect his friends and the art he loves from the 'toughest' bully out there: Bully Onion. Our kids join Little Pickle in overcoming the challenges of his internal and external bullies. Throughout the book are examples of what real toughness looks like; courage, self-confidence, and bravery. All important attributes for standing up to 'bad guys.' Bullies back down when heroes stand up.

Note: This book is in digital form and is delivered as an instant download. If you wish to purchase a physical copy of the book you can do so here.