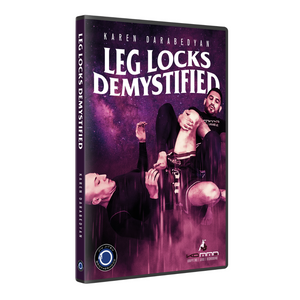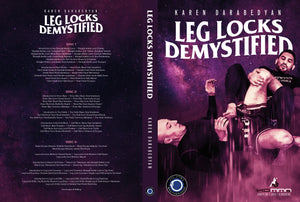 Regular price
Leg Locks Demystified
---
The Ultimate Leg Lock System!

Welcome to Leg Locks Demystified! 
This exceptional new leg lock instructional is brought to you by Karen Darabedyan, a professional mixed martial arts fighter and black belt instructor of the Hayastan grappling system of Gokor Chivichyan and Gene LeBell.
This instructional video set features a progressive and complete leg lock attacking system. The Hayastan leg lock system is a total holistic leg lock system which implements attacks and entries from all situations.
About Karen Darabedyan

Karen is an Armenian American mixed martial arts fighter who has positioned himself as a well-rounded athlete through diverse and extensive training. Darabedyan began studying karate at the age of 5 and taekwondo at the age of 9, earning his black belt in both by age 15. He began expanding his martial arts training in junior high by taking up boxing, kickboxing, judo and wrestling; earning a black belt in judo by age 16 and achieving a 12-0 amateur boxing record by 18. During high school, he claimed two judo state championship titles and placed third in the nation. 
At age 16, Darabedyan entered the world of grappling, placing 1st in the Men's No-Gi Lightweight division at the 2004 Grapplers Quest and winning 1st place at under 189.9 pounds in the 2007 World Grappling Games Best of West. 2013 Darabedyan also won the NABJJF Worlds in the black belt division. Drawing on his diverse training under the guidance of Master Gokor Chivichyan, Karen Darabedyan competed in his first mixed martial arts fight at age 18, claiming a win in the first round by KO.
Since then, he has compiled a 13-6 record. Karen currently trains with Gokor Chivichyan and Gene LeBell at Hayastan Academy in North Hollywood and also at Main Event Gym in Glendale.
Karen Darabedyan is not only one of the best grapplers in the world, but he is also an excellent teacher, patiently explaining, presenting and personalizing every detail, both with advanced and beginner learners.
Volume 1:
- Straight Ankle Lock: Triangled Feet
- Straight Ankle Lock: 'Gokor-Goodbye' Variant
- Straight Ankle Lock: Belly Down Variations
- Straight Ankle Lock: Common Mistakes
- Straight Ankle Lock: Cross Body Variation
- Straight Ankle Lock: Arm Positioning
- Straight Ankle Lock: Set-Up from Guard & 3 Finishes
- Straight Ankle Lock: Basic Grip Variations
- Straight Ankle Lock: Escapes
- Introduction to Heel-Hooks
- Heel-Hook: Basic Grip Variations
- Heel-Hook: Inside & Outside Variations
- Outside Heel-Hook Variations
- Inside Heel-Hook Variations
- Inside Heel-Hook Mechanics
- Outside Heel-Hook from Double-Lockdown
- Outside Heel-Hook: Belly Down
- Heel-Hook from Guard
- Heel-Hook from Side Mount
- Heel-Hook from Half-Guard
- Heel-Hook Escapes
Volume 2:

- Introduction to Knee-Bars
- Knee-Bar: Basic Grip Variations
- Knee-Bar from Closed Guard
- Knee-Bar: Overhook on Leg
- Knee-Bar: Back Step Variation
- Knee-Bar from Half-Guard
- Knee-Bar from Butterfly-Guard
- Knee-Bar from Quarter-Guard
- Knee-Bar: Common Mistakes
- Knee-Bar: Defence & Escape
- Introduction to Toe Holds
- Toe Hold: Basic Grip Variations
- Toe Hold from Heel-Hook Attempt
- Toe Hold from Closed Guard Break
- Toe Hold from Top Butterfly-Guard
- Toe Hold: Common Mistakes
- Toe Hold: Defence
- Introduction to the Calf Slicer
- Calf Slicer: Basic Grip Variations
- Calf Slicer: Shin Variation
- Calf Slicer from Top Butterfly-Guard
- Calf Slicer from Leg Lock Position
- Calf Slicer from Turtle
- Calf Slicer from Seated Butterfly-
- Calf Slicer: Defence & Escape
Volume 3:
- Back Escape Attacks: Outside Heel Hook
- Back Escape Attacks: Toe Hold
- Back Escape Attacks: Inside Heel Hook
- Leg Locks from Bottom: Closed Guard 
- Leg Locks from Bottom: Half Guard
- Leg Locks from Bottom: Mount
- Introduction to Stand-Up Entries
- Stand-Up: Takedown into Straight Ankle Lock
- Stand-Up: Takedowns into Heel Hook
- Stand-Up: Takedowns into Knee-Bar
- Introduction to Leg Lock Counters
- Leg Lock Counters: Straight Ankle Lock to Toe Hold
- Leg Lock Counters: Outside Heel Hook Reversal
- Leg Lock Counters: Single Leg-X Reversal to Toe Hold
- Introduction to Leg Lock Drills
- Leg Lock Drills: Guard Break to Leg Switches
- Leg Lock Drills: Top Butterfly Guard to Leg Drag
- Leg Lock Drills: Single Leg-X Switching to Takedown
- Leg Lock Drills: Inside to Outside Heel Hook Switching
- Conclusion & Rolling