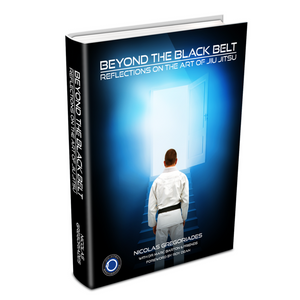 Regular price
Beyond the Black Belt - Digital Download
---
The sequel to one of bestselling BJJ books of all time, Beyond the Black Belt: Reflections on the Art of Jiu Jitsu, is a collection of essays by 4th Degree Black Belt Nic Gregoriades, in collaboration with Dr Marc barton and other friends, that is guaranteed to take your appreciation for and practice of jiu jitsu to the next level. 
"It's clear that Nic Gregoriades has put a lot of thought and effort into his quest to understand jiu jitsu and this book shows it."
Kurdt George - Renzo Gracie Black Belt
Beyond the Black Belt also features content from UFC coaches, grappling world champions and other jiu jitsu luminaries.
Inside you'll find: 
The 'Escape Mastery Formula' - the elements you need to get out of any tough situation
Why leg-locks are the biggest trend in grappling - and how to learn and use them properly
Why Roger Gracie is the best BJJ competitor of all time and what it's like to roll with him
Essential guard-passing concepts and how to use them
How aging effects your game - and how to minimize its effects
The truth about the 'Jiu Jitsu Globetrotter' lifestyle and the best cities to train in
The most important body part to train for better performance on the mat (hint: it's not your 'core') 
"This is the book I wish I'd had when I started training. I'm just glad to have it now!"
Stephen Jones - Roger Gracie Black Belt
With a foreword by Roy Dean and over 300 pages of condensed jiu jitsu wisdom and full-color professional photographs,  Beyond the Black Belt presents an illuminating look at all aspects of the gentle art.
Among the many things you'll learn are:
What really makes a good blue belt - and why most white belts aren't ready for it!
The fastest ways to improve all types of guard
Why learning the latest fancy move probably won't help you - and what to focus on instead
Advice from a doctor (and BJJ black belt!) on how to deal with the most common jiu jitsu injuries
How Kit Dale used progressive training methods to become one of the best grapplers in the world
The 7 crucial mistakes you might be making during training - and how to correct them 
...Plus much, much more!
Get your copy of Beyond the Black Belt now and start reading instantly.
"Everyone who trains jiu jitsu will take away something of value from Beyond the Black Belt."

Andrew MacDonald - Head of Arete & BJJ Black Belt