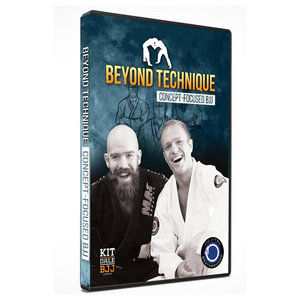 Regular price
Beyond Technique with Kit Dale - Digital Download
---
Beyond Technique with Kit Dale 

You Keep Forgetting Your BJJ Techniques...

..and the ones you do manage to memorise you usually can't recall by your next class.

But the secrets you'll learn in this BJJ instructional video will give you the tools to ensure you still make rapid progress.

For the first time, two of the art's most progressive instructors come together to bring you a resource guaranteed to take your understanding of jiu jitsu to a deeper level.
Kit Dale

Kit is Australia's most prolific competitor, having won several high profile tournaments including the Australian Nationals and Abu Dhabi World Pro several times.

Despite starting BJJ relatively late at the age of 23, he was able to get his black belt in just 4 years by using his unorthodox approach to the study of the art.


Nic Gregoriades

Nic is Roger Gracie's first black belt and known for his successful book, 'The Black Belt Blueprint' and his holistic and effective approach to jiu jitsu training.

He is also the founder of The Jiu Jitsu Brotherhood and like Kit, was awarded his black belt in just over 4 years.


In Beyond Technique Kit and Nic will show you a collection of the most fundamental and effective jiu jitsu concepts that each of them has discovered on their respective jiu jitsu journeys.
Among the things you'll learn are:
A simple principle to improve your takedowns by 300 percent
A unique, three-point system that will turbo-charge your sweeps and also allow you to identify and create sweeps of your own
A concept which will instantly make many of your jiu jitsu movements stronger and more powerful, without the need for additional strength training
An understanding which, when implemented into your game, will make it far more difficult for opponents to hold you down
A defensive tactic which will make you far less susceptible to both arm and leg-locks
An insight into breaking your opponent's balance which will make it easier to take him down from the 'kneeling start' position
A expansion on the well-known concept of 'posture' that will dramatically upgrade your ability to get yourself out of tough situations
simple trick which will disable your opponent's leverage and render his attacks useless
A break-down of the mechanics behind the guard-pull and how to defeat it
Plus much more, all for less than the price of a private lesson!
Here's an excerpt from the video:
What jiu jitsu guys are saying about Beyond Technique:

"Hey Nicolas, thanks for this very good compilation of grappling concepts!! The explanations of the concepts are good and in an understandable manner. I think this dvd will become a "must see" for every grappler."

- Alexander Marx


"in one day now Jiu Jitsu makes sense without thinking about what technique is better for the situation ...thanks for showing me how to flow!"

- Jose Aquino


"Hi Nic. Just a note to say I watched the digital copy of your new instructional and I think it's fantastic. If people want to make a breakthrough rather than incremental innovations in their game, your conceptual approach is undoubtably the way to go. I will be definitely buying the follow up and writing a review on my website of this one."

- Glyn Powditch