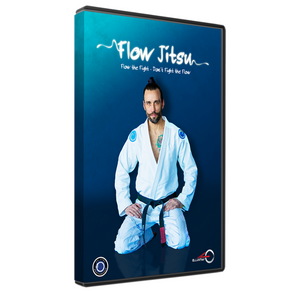 Regular price
Flow Jitsu - Digital Download
---
Bring a smooth & flowing style to your game - no matter your age or skill level!

Flow-Jitsu is a collaboration between JJB and Mike Bidwell designed to teach you versatile, adaptable techniques that are effective for anyone on the mat!
Mike Bidwell is one of the most interesting figures in Jiu Jitsu today.
It took him a stunning 13 years to earn his black belt - a story of ups and downs you can learn more about on his website BJJAfter40.com.
Mike is 47... but he moves and flows like a 20 year-old! You can chalk this up to his unique flowing style of jiu jitsu - which exactly what you'll learn in Flow-Jitsu.
Nic and Mike are both very excited about this collaboration and to bring you a complete instructional video series that can be used by any BJJ player of any age and skill level.
Flow-Jitsu features 10 video modules with high-quality, multi-angle footage and clear, personalized instruction.
In Flow-Jitsu you'll learn:
Seatbelt counter submissions that can flow directly into your game
Americana set ups you can use to cover every possible counter to your opponent's defense
4 clever ways to set up the face wrap position from mount
Several unique set-ups and a detailed breakdown of the fist ezequiel, one of Mike's favorite attacks
How to effectively chain sweeps & set ups (Most do it wrong - here's how to do it right)
A detailed breakdown of Mike's patented "ninja-roll" choke
Effective counter submissions from the mount position that are perfect for both gi and no-gi jiu jitsu
An all NEW, never-before-filmed mount lapel attack - the seppuku choke!
Flow-Jitsu includes all this and more in a one-time digital download!
Here's what people are saying about Flow-Jitsu:
"Watched the first 40 minutes. Very good. Mike is an excellent instructor. Lots of small details that are new to me. I believe it's a good set for the intermediate viewers - those who are more experienced with the cut and thrust of sparring, the blockages and problems that occur when forcing through a technique, Mike's philosophy is on seamless transitions, which very much appeal to me. I'll finish the set then try out a few things next time I train."
"Awesome program for learning smooth flowing moves and Mike's style. Really cool to see these two guys working together - highly recommended!"
"Mike is easy to learn from and understand and I really like his teaching style. I've been doing jiu jitsu for years now, but there was a lot of new stuff in here that I found very creative and innovative. Great job!"
When you order Flow-Jitsu you'll get instant access to the full video series - click "Add to Cart" now to start watching Flow-Jitsu today!