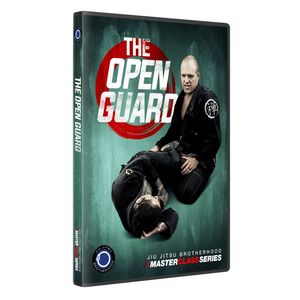 Regular price
The Open Guard Masterclass - Digital Download
---
The Open Guard Masterclass

Welcome to the Open Guard Masterclass!
This exceptional new open guard instructional is brought to you by Nic Gregoriades, a fourth-degree black belt under the legendary Roger Gracie.
The open guard is the most complex position in jiu jitsu, and one of the most difficult to master. In this instructional video, Nic shares over 2 hours of his and most effective open guard techniques.
About Nic Gregoriades

Nic is Roger Gracie's first black belt and known for his successful book, 'The Black Belt Blueprint' and his holistic and effective approach to jiu jitsu training. He was awarded his black belt in just over 4 years and is renowned for his patient and innovative teaching style. Almost everyone agrees that concepts are one of the best ways to absorb jiu jitsu. Nic designs his lessons around concepts so that you learn quickly and retain what you learn

About The Masterclass Series
Nic has spent over 20 years studying and teaching the art of jiu jitsu. He has traveled the world and learned from the best to bring you the very highest quality jiu jitsu instruction available in this series of instructional videos.
By drawing on his extensive experience as both a competitor and teacher, as well as learning from his global network of training partners, Nic has designed the Masterclass Series to ensure that no matter what your level, you will experience rapid and enjoyable progress in your study of jiu jitsu.
The Masterclass Series was filmed in a unique and intimate 'fly on the wall' style while Nic was teaching his own students. This is closest thing that you can get to experiencing what it is like to be taught by Nic personally in a class environment. 
No matter where you are on your journey from white to black belt, the Masterclass Series has you covered. From new details on the simplest fundamental techniques to the most advanced jiu jitsu, it's all here. Nic is also often referred to as a 'coaches' coach'. His lessons are crafted to make learning both easy and stimulating. If you're a teacher they can be easily adapted for your own students.
Masterclass Series Testimonials

"Nic is an excellent teacher and fighter who understands jiu-jitsu on a deep level. I trust him to teach the art to the hundreds of students at my academy." 
- Roger Gracie

"Nic is a great training partner and he's got an amazing ground game. I really enjoyed training with him".
- George St Pierre


"I really appreciate your excellent instruction. It has been an invaluable supplement to my training and has really opened my eyes to some of the nuances and details especially as I have progressed to higher belts and the corresponding tougher opponents... ". 
- Bryan Haardt
Lessons included in the Open Guard Masterclass:
OPEN GUARD BOTTOM GAME
- Angle Creation in Seated Guard
- Collar Drag
- Hip Vector Drill for Shin-to-Shin Guard Against Standing Opponent
- Hip Vector Drill for Sit Up Guard Against Standing Opponent
- Shin-to-Shin Entry to Ashi Garami
- Hand Control Takedown from Open Guard
- X-Guard Basic Controls
- X-Guard Splay Sweep
- X-Guard Standup Sweep
- X-Guard Mistake Hand Sweep
- Entry to Curu Curu from Combat Base
- Curu Curu Maintenance Against Forward Step
- Sweep Against Backstep from Curu Curu Guard
- De La Riva to Helicopter Armbar or Back
OPEN GUARD PASSING CONCEPTS AND TECHNIQUES
- Principles for Passing Open Guard
- Concepts for the Standing Pass
- Concepts for Kneeling Pass
- Pre-emptively Addressing Open Guard Controls
- IICC Guard Passing
- IICC - Ankle Isolation
- Ankle Isolation Pass
- Tips for Removing Slack in Isolation Pass
- Killing Hooks Passing Open Guard
- Pinch and Pivot Pass
- Pinch and Pivot Pass Details
- Finalizing Pinch and Pivot Pass
- Addressing Spider Hooks
- Addressing Lasso Guard
- Addressing De La Riva Hooks Standing
- Drunken Master Passing
- The Opposite of What They Expect
- Knee Slice to X-Pass Combination
- Knee Slice to X-Pass Combination 2
- Headstand Hop Over
- Headstand Kick Over
- Torreando Defense Drill
- Torreando Defense Drill Details
- Inversion Detention Drill
- Cartwheel Pass Inversion Detention Drill
- The Pummel