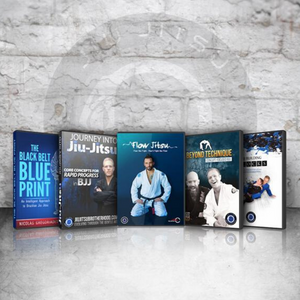 Regular price
Sale price
Instructional Products Bundle
---
Rapidly accelerate your jiu jitsu development with five of our most popular products - and save over 25%!
This bundle includes:
BJJ Building Blocks
Learn the Jiu Jitsu fundamentals and build a rock-solid foundation with our most comprehensive video course.

BJJ Building Blocks is recommended for white, blue and early purple belts, but is great for anyone without regular access to a black belt or high level instructor.
BJJ Building Blocks course access includes:
50 easy-to-follow video lessons totalling 3+ hours of instruction
Lifetime access from any browser and device including Mac, PC, smartphone and tablet
Learn at your own pace anytime, anywhere
"Nic is an excellent teacher and fighter who understands jiu-jitsu on a deep level. I trust him to teach the art to the hundreds of students at my academy."
Roger Gracie, 10-time 

BJJ World Champion
Beyond Technique
In Beyond Technique, two of BJJ's most progressive instructors come together to bring you a concept focused series of lessons guaranteed to take your jiu jitsu understanding to a deeper level.

Kit Dale is Australia's most prolific competitor and earned his black belt in just 4 years with his unorthodox approach to the study of the art.
In Beyond Technique Nic & Kit show you:
A single concept that makes many of your movements stronger and more powerful, with the need for additional strength training
A full breakdown of the mechanics behind the guard-pull and how to defeat it every time
An expansion on the concept of "posture" that will massively increase your ability to escape from tough situations
A unique, 3-point system to turbo-charge your sweeps - and then allow you to identify and create sweeps of your own
The Black Belt Blueprint
The Black Belt Blueprint is a complete framework to help you improve your Brazilian Jiu Jitsu as quickly and effectively as possible.

This comprehensive guide includes the lessons, strategies and principles Nicolas Gregoriades used to earn his black belt in 4 years and then go on to teach thousands of students worldwide.

The 8-part book features over 170 pages with more than 100 full-colour images, plus embedded links to videos and further training resources.


Journey into Jiu Jitsu
Journey into Jiu Jitsu was created for beginners to jiu jitsu who have difficulty remembering and applying the complex technique sequences often taught in classes.

Featuring high-quality production, this video demonstrates core BJJ concepts with clear examples to cement your understanding beyond what you learn in class.

"Most bjj instructional videos are simply technique demonstrations, but with Journey Into Jiu Jitsu you are really taught to understand the underlying principles behind jiu-jitsu and how to make them work for you. I highly recommend this product for any bjj practitioners, especially beginners."
- James Cooper, Youngest Ever UK Black Belt


Flow Jitsu
   Flow the Fight - Don't Fight the Flow
Flow Jitsu is an exciting new collaboration between Jiu Jitsu Brotherhood and Mike Bidwell from BJJAfter40.com

In Flow Jitsu Mike teaches his unique, flowing style of jiu jitsu in a way that anyone can learn - no matter their age or skill level.
Flow Jitsu features 10 video modules where you'll learn:
Seatbelt counter submissions that can flow directly into your game
Americana setups you can use to cover every possible counter to your opponent's defense
How to effectively chain sweeps & setups (Most do it wrong - here's how to do it right)
Several unique set-ups and a detailed breakdown of the fist ezequiel, one of Mike's favorite attacks
A detailed breakdown of Mike's patented "ninja-roll" choke
Effective counter submissions from the mount position that are perfect for both gi and no-gi jiu jitsu
Get all five together and save over 25%!

Flow Jitsu, Beyond Technique, Journey into Jiu Jitsu and The Black Belt Blueprint come as digital downloads you can access immediately.

You'll also get instant access to the entire BJJ Building Blocks course which can be used anytime, anywhere and from any device.
Click Add to Cart now to start improving your Jiu Jitsu today!