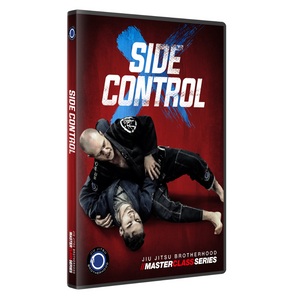 Regular price
The Side Control Masterclass - Digital Download
---
The Side Control Masterclass

Welcome to the Side Control Masterclass!
This exceptional new side control instructional is brought to you by Nic Gregoriades, a fourth-degree black belt under the legendary Roger Gracie.
Side Control is one of the most fundamental and important positions in jiu jitsu, and in this instructional video, Nic shares over 2 and half hours of his favourite and most effective side control techniques.
About Nic Gregoriades

Nic is Roger Gracie's first black belt and known for his successful book, 'The Black Belt Blueprint' and his holistic and effective approach to jiu jitsu training. He was awarded his black belt in just over 4 years and is renowned for his patient and innovative teaching style. Almost everyone agrees that concepts are one of the best ways to absorb jiu jitsu. Nic designs his lessons around concepts so that you learn quickly and retain what you learn

About The Masterclass Series
Nic has spent over 20 years studying and teaching the art of jiu jitsu. He has traveled the world and learned from the best to bring you the very highest quality jiu jitsu instruction available in this series of instructional videos.
By drawing on his extensive experience as both a competitor and teacher, as well as learning from his global network of training partners, Nic has designed the Masterclass Series to ensure that no matter what your level, you will experience rapid and enjoyable progress in your study of jiu jitsu.
The Masterclass Series was filmed in a unique and intimate 'fly on the wall' style while Nic was teaching his own students. This is closest thing that you can get to experiencing what it is like to be taught by Nic personally in a class environment. 
No matter where you are on your journey from white to black belt, the Masterclass Series has you covered. From new details on the simplest fundamental techniques to the most advanced jiu jitsu, it's all here. Nic is also often referred to as a 'coaches' coach'. His lessons are crafted to make learning both easy and stimulating. If you're a teacher they can be easily adapted for your own students.
Masterclass Series Testimonials

"Nic is an excellent teacher and fighter who understands jiu-jitsu on a deep level. I trust him to teach the art to the hundreds of students at my academy." 
- Roger Gracie

"Nic is a great training partner and he's got an amazing ground game. I really enjoyed training with him".
- George St Pierre


"I really appreciate your excellent instruction. It has been an invaluable supplement to my training and has really opened my eyes to some of the nuances and details especially as I have progressed to higher belts and the corresponding tougher opponents... ". 
- Bryan Haardt

Lessons included in the Side Control Masterclass:

CONCEPTS
- Weight Distribution in Side Control
- SOAP concept
ARMLOCKS
- Americana from Side Mount
- Americana in Detail
- Kimura from Side Mount
- Near Side Arm Attacks with the Leg
- Baiting the Giftwrap from Scarf Hold
- Wristlock from Side Mount
 CHOKES
- Setting up the Small Hand from Side Mount
- Triangle from Side Mount with Small Hand
- Triangle from Modified Scarf Hold
- Modified Paper Cutter
- 45 Degree Side Mount
- North South Choke
TAKING THE BACK FROM SIDE CONTROL
- Taking the Back from Side Control
- Taking the Back from Side Control - Inserting Second Hook 
- Pass Extension Resolution Drill
- Pass to Back Drill
KNEE ON CHEST
- Knee on Chest
- Detail For Posted Leg In Knee On Chest
- Spinning Armlock From Knee On Chest
- Choke from Knee on Chest
ESCAPES
- Regaining Posture in Bottom Side
- Creating Space in Bottom Side
- Threading the Needle Reguard
- High Shrimp Movement
- Threading the Top Needle with High Shrimp
- Threading the Top Needle with High Shrimp 2
- Choke Punch Escape
- Harpoon Escape
- Ending Position for Side Control to Knees
- Side Control Escape to Knees
- Kimura Escape with the Hip Scoop
- Kimura Escape with the Hip Scoop – Troubleshooting
- Hail Mary Americana from Bottom Side
- Hail Mary Sweep and Armlock from Bottom Side