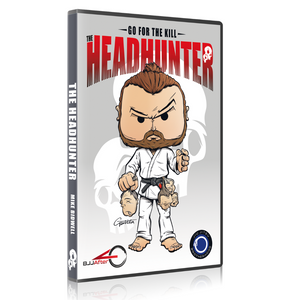 Regular price
The Headhunter Choking System - Digital Download
---
The Most Dynamic Neck-Attack System in the World
The incredible new submission system created and conceived through the eyes of BJJ black belt and BJJAfter40 founder Mike "Spider Ninja" Bidwell.
Over 4 hours of the most progressive and creative jiu jitsu attacks ever seen.
Headhunter focuses on chokes and strangles but includes tons of joint locks, foot locks and more.

 
See through the eyes of a black belt  - every detail, angle and closeup

 

is there! 
Tons of Gi & No Gi moves - almost everything is translatable to submission grappling and BJJ
Get Mobile! Includes a full stretching sequence that corresponds to the moves in the instructional so you can easily develop the skills needed to effectively perform the moves. 
Review each segment with close ups, on screen instructions, multiple angles and slow motion. 
Enjoy clear, concise easy-to-follow instruction -

 

Perfect for all levels. 
Includes all the moves made famous by the 'Spider Ninja' like:

 
The Cryangle Choke, Kraken Choke, Ninja Roll Chokes 2.0, The Seppuku Choke, No Gi Spider Guard Attacks, Multiple Triangle attacks from inversions / unorthodox positions, Spider X Guard, Head Lopper Choke, Multiple Back takes / attacks and MORE!
 Get Headhunter today and upgrade your game!