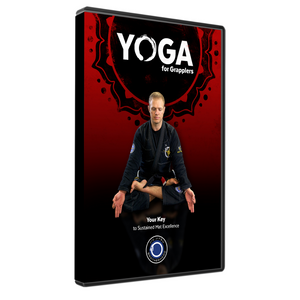 Regular price
Yoga for Grapplers - Digital Download
---
Heal injuries, recover faster, and add years to your grappling career!
Over 2 years in the making, Yoga for Grapplers is this ultimate program for those wanting a long and healthy career on the mat.
 Includes:
Over 2.5+ hours of warm ups, stretches, mobility sequences & strengthening movements
Exclusive content only available in this program
Downloadable for immediate access
Learn at your own pace
Perfect for those new to yoga
High-quality audio and video
As grappling athletes, our training creates specific imbalances that must be fixed, otherwise they create injury in the long term and degrade performance in the short term.

This program is designed to help you correct these imbalances, heal old injuries, recover faster from training and add years to your career on the mat.

Yoga for Grapplers includes dozens of exercises and sequences for every part of the body. There is particular focus on the neck, upper torso (shoulders, chest and upper back) and hips, as these are the tightest and most injury-prone areas for grapplers.
"I've never been naturally flexible, and for years my body was incredibly tight and constricted. Training jiu jitsu and lifting weights for hours a day was no help. At a certain point I had to recognize that if I continued the way I was going, I wouldn't be able to do jiu jitsu for much longer.

I cut down on strength training and immersed myself in yoga. Yoga has helped me more than anything to heal old injuries, improve how my body moves and feels, and increase my longevity as a grappling athlete."

- Nic Gregoriades
In this program Nic guides you through yoga and movement sequences designed to add fluidity to your jiu jitsu game, heal specific grappling-related injuries and help you move better every day for the rest of your life.

You'll learn:
How to strengthen the mind-body connection for better flow and rhythm on the mat
Advanced hip-mobilization techniques that allow you to apply greater force through the hips when grappling
The best place to start with yoga, even if you've never done a single class or yoga pose before
5 "neck vectors" to increase neck mobility on every plane of movement
How to use yoga bandhas to improve muscle control and automatically move your body into advantageous positions during grappling matches
Why a tight jaw may be causing you unnecessary neck tension, and exactly what to do to fix it
How to use "ujjayi breath" for deep, full, audible breathing during stretching and yoga practice
How to strengthen muscles while you stretch them to avoid the risk of becoming too flexible
The "Rickson Gracie shoulder roll" - a highly effective shoulder mobilization exercise to improve upper body dexterity, grip strength and joint health
All this and more is featured in over two and a half hours of high quality video content.
Yoga for Grapplers also draws on pilates, physiotherapy, primal movement patterns and other physical practices. There's a lifetime's worth of work in here.
The benefits of this program aren't limited to just jiu jitsu players either. Yoga for Grapplers will be helpful for any grappling athlete including judo players, MMA fighters and wrestlers.

Best of all, this can be done by absolutely anyone of any age or skill level. Beginner and advanced grapplers alike are sure to find enormous benefits in greater mobility, flexibility, and joint health.

Here's what some jiu jitsu players had to say:

"I'm 46 years old and have been training BJJ since 1996. In July 2016 I was in a serious car accident where I suffered a broken back.

No therapy I have done since the accident has done even a fraction of what Yoga for Grapplers has done for my mobility. I've always been flexible, but Yoga for Grapplers has not only returned my mobility but it actually made me even more flexible.

Yoga for Grapplers has become part of my daily routine, and I'll enjoy using it to push to new limits. Nic is always breaking new ground and he's done it again with Yoga for Grapplers."


- Brian Oravetz, BJJ Brown Belt
______________________________
"I've been watching this series for a few weeks now and it's off the charts good! I just went through a neck injury and Nic's program was a huge asset in getting me back on the mats sooner! I highly recommend it for anyone who wants improve flexibility - prevent / rehab injuries or catapult their training to the next level!"


- Mike Bidwell, BJJ Black Belt - Founder of BJJ After 40
______________________________
"The practice of Yoga is vital for keeping the body flexible and agile for jiu jitsu, especially as you age. In Yoga for Grapplers, Nic has created a fantastic resource for all those wanting to start using this powerful technology to improve not only their BJJ, but their overall health as well."


- David G Reilly, BJJ Black Belt & Champion


Begin your journey towards better mobility, athletic performance and longevity today.
Click "Add to Cart" to get started - we'll see you on the mat!