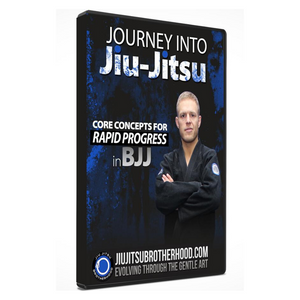 Regular price
Journey into Jiu Jitsu - Digital Download
---
The first instructional video from Roger Gracie Black Belt and founder of The Jiu Jitsu Brotherhood, Nic Gregoriades.
In this video Nic shares with you the concepts which laid the foundation for his jiu jitsu game and helped him to achieve the rank of black belt in just over 4 years.
Journey into Jiu Jitsu was created specifically for beginners to jiu jitsu who are frustrated by the difficulty of remembering and applying the complex technique sequences that are often taught in bjj classes.
This high-quality production features Nic giving comprehensive breakdowns of several of the most important principles relating to jiu-jitsu and how to use them in sparring and competition.
"Nic has always internalised jiu jitsu concepts on a very deep level and with this video shares his understandings in a way that beginners will be sure to benefit from."
- Antony Rode, Black Belt
"Most bjj instructional videos are simply technique demonstrations, but with Journey Into Jiu Jitsu you are really taught to understand the underlying principles behind jiu-jitsu and how to make them work for you. I highly recommend this product for any bjj practitioners, especially beginners."
- James Cooper, Youngest Ever UK Black Belt
"I love the way Nic breaks down his techniques and the way he puts his ideas across. He makes things very easy to understand and when i train with Nic i always come away learning some important finer details that are very effective."
- Stuart Cooper, Renowned BJJ Filmmaker
"Nic Gregoriades is a phenomenal jiu jitsu instructor and is amazing at breaking the game down. Nic understands the game on all levels physically, technically and mentally."
- Denny Prokopos, Eddie Bravo Black Belt