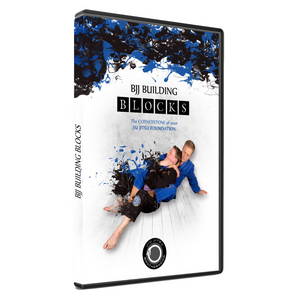 Regular price
BJJ Building Blocks - Digital Download
---
One of our most popular video courses teaches you how to understand and properly execute the fundamentals of BJJ.
BJJ Building Blocks includes:
A sequence of 50 easy-to-digest video lessons, totalling 3+ hours
Exclusive content from world renowned instructor Nicolas Gregoriades
Learn at your own pace
High quality audio and video
Buy now and learn the skills that will help you quickly progress and eventually master any and all Jiu Jitsu moves from here on out.
Who should buy BJJ Building Blocks?
We recommend this program for white, blue, and early purple belts.
But it is also highly beneficial for anyone who doesn't have regular access to a good black belt or instructor. Otherwise it will be difficult to be sure you are properly learning and setting up the all-important foundational BJJ techniques.
Some favorite features
How to tap your opponents from dominant positions using high-percentage attacks
Simple and effective passing strategies

-

that defeat even the trickiest guards
Some of

Nic's most trusted escapes

, and how to use them to build an air-tight defence against aggressive opponents
How to never get frustrated wondering what technique to use again
The triangle choke how to do it right - and how many do it wrong
How to defeat bigger, stronger opponents with technique

-

even if you lack strength or flexibility

More of what you'll learn

Vital principles from each of the major positions
Dozens of high-percentage submissions
The simplest and most effective ways to pass the guard (

including some that will surprise you!)
Devastatingly powerful sweeps and attacks from the bottom
2 sure-fire ways to escape the frustrating side-mount position
The most important throws and standing attacks for sport jiu jitsu
Often-overlooked takedowns from the knee-start position, and the best way to use them
Defences and counters against the most commonly experienced attacks
The easiest way to break down a stronger opponent's posture
One of the most powerful open-guard attack combinations in jiu jitsu
Plus, when you order today you'll get the following free bonuses:
+ FREE BONUS 1 - Jiu Jitsu Concepts Seminar ($150 value)

Exclusive footage of Nic and jiu jitsu maestro Tim Peterson teaching a detailed concept-focused BJJ seminar in Los Angeles. It includes a high-percentage throw and a devastating guard-pass -> back-take -> submission sequence.

+ FREE BONUS 2 - Grappling Mobility Workout ($20 value)

We all know grappling is the great joint destroyer. In this new video Nic shares with you the tips and secrets he uses to beat the odds and keep his joints pain free and supple for peak jiu jitsu performance.

+ FREE BONUS 3 - BJJ Private Masterclass ($30 value)

Filmed in Thailand by famed jiu jitsu videographer Stuart Cooper, this 'private' lesson with Nic demonstrates an original 'Grapple Kata' designed to help you move efficiently on the ground. It also includes a 'chain-drill' sequence as well as some details on a powerful bjj concept.
Just a few of the Reviews
"Nic is an excellent teacher and fighter who understands jiu-jitsu on a deep level. I trust him to teach the art to the hundreds of students at my academy."
Roger Gracie
, 10-time 
BJJ World Champion
"Nic explains all the material in a clear and easily accessible fashion, making this a great resource for beginners to jiujitsu."
Oliver Geddes
,
BJJ Black Belt
"Nic is a great training partner and he's got an amazing ground game. I really enjoyed training with him!"
Georges St Pierre
,
BJJ Black Belt
"The most important moves are all covered in detail and with clarity. If you're a beginner don't hesitate and get this course!"
Lorenzo Fraquelli
,
BJJ Black Belt
"Flashy techniques go in and out of fashion but the fundamental moves in BJJ Building Blocks are the ones you'll use on the mat every day, for the rest of your life."
Liam Resnekov
,
BJJ Black Belt
Join the hundreds of people in over 60 countries using BJJ Building Blocks to create your own solid jiu jitsu game
Sample technique: Arm Position to Escape Side Mount
Sample technique 2: Mastering the Triangle Choke
Nicolas Gregoriades
is a world renowned jiu jitsu instructor. He was not only Roger's Gracie's first black belt, but earned the honor in just over 4 years. Nic is known for his unique mindset and approach to jiu jitsu training, and has developed a clear, detailed and effective teaching style that guarantees results for his students. He is also the founder of the Jiu Jitsu Brotherhood and author of the bestselling BJJ training manual The Black Belt Blueprint